In the news
Jail time possible for repeat asbestos violations
Reported in The Vancouver Sun. Published May 8, 2013
WorkSafeBC will ask the court for stronger action against a Lower Mainland asbestos removal contractor that could result in rare jail time for exposing workers to health risks
Read more
Firm fined for asbestos storage
Reported in The Vancouver Sun. Published Jan. 3, 2013
A Richmond-based disposal company has been fined $70,000 by a Provincial Court judge for illegally accepting and storing asbestos in 2011 on Mitchell Island.
Read more
Asbestos rules ignored in many B.C. home demolitions, contractor claims
Reported in The Georgia Straight. Published Mar. 23, 2011
The owner of Vancouver-based 4W's Demo Ltd. told the Georgia Straight that unsafe operations place not only workers but residents at risk of deadly asbestos exposure.
Read more
B.C. Court orders arrest for asbestos contractor
Reported in the Vancouver Sun. Published October 20, 2011
The B.C. Court of Appeal has ordered the arrest of a contractor who thumbed his nose at a court injunction ordering him to stop operating an asbestos removal business that employed teenagers and recovering drug addicts without proper training or protective equipment.
Read more
WorksafeBC cracks down on asbestos removal in demolitions
Reported in the Vancouver Sun. Published March 24, 2011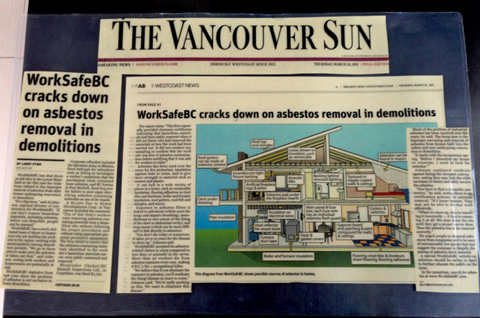 WorksafeBC wants jail for asbestos contractor
Reported in The Vancouver Sun. Published Mar 28, 2011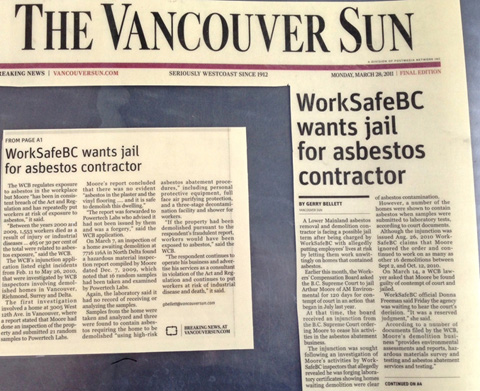 Kids at risk when old homes renovated: study
Reported in The Vancouver Sun. Published Mar 28, 2011
Man exposed workers to asbestos
Reported in The Province. Published April 26, 2011

Asbestos is Top Workplace Killer
Reported in The Province. Published September 5, 2010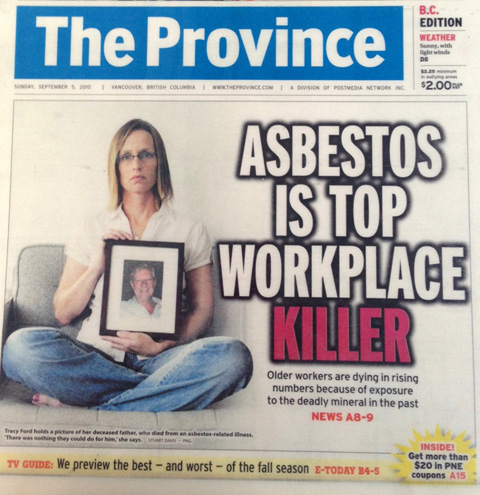 We're killing People Right Now
Reported in The Province A1, A4, A9-10. Published September 5, 2010